2018 Projects
August 22, 2018
Marquette, MI –The Board of the Iron Ore Heritage Recreation Authority announces upcoming construction projects along the Iron Ore Heritage Trail (IOHT) in 2018.  Major projects include weather shelter/fishing piers/bird watching platform construction, trailhead amenities and landscaping, a Negaunee Mine Memorial to cave-in victims of 1902, plus ongoing maintenance items.
"We're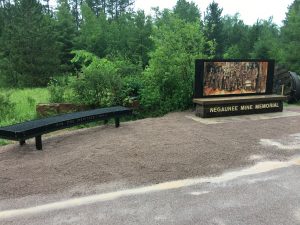 excited about this year's construction season.  Users of the trail will see some new building projects along the trail that match our goals of building, managing and maintaining the Iron Ore Heritage Trail while interpreting the story of the Marquette Iron Range." notes Carol Fulsher, Administrator, "Users of the trail system may have already noticed work at our Negaunee Mine Memorial in East Negaunee along the paved section east of Healey Avenue. We are building an artistic memorial to the 10 miners who lost their lives in the 1902 Negaunee Mine Cave-in, while adding some benches, and an interpretive walking pathway that will feature the news articles surrounding the cave-in. Mike Lempinen and Rick Kauppila were awarded this project and trail users will see their talent on display soon.  This project  was possible through the support of the Central U.P. Regional Prosperity Initiative, administered by CUPPAD.
Other projects to watch for in coming months include custom IOHT bike racks and benches plus bike fixing stations and landscaping at the Chocolay Lions Field, the Welcome Center, Schwemwood Park, and Republic. Funding for this project came from Michigan's Recreation Passport grant to provide users with additional amenities along their travels.  Though Michigan's ORV grant system, the IOHT will also be doing some fill and grading work on three low spots along the Greenwood Grade ORV route plus some tweaks along the ORV route in Negaunee.
Fulsher also noted another construc tion project, "Another major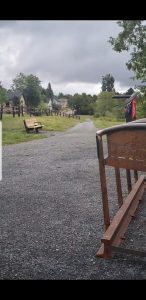 proje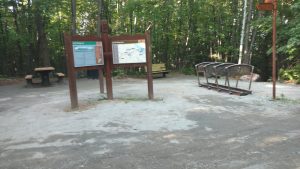 ct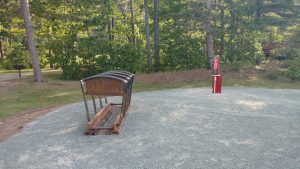 to look for this year is the addition of a bird watching platform with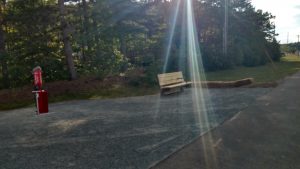 roof at the Carp River Bridge in Negaunee.  This is an excellent site to see a variety of song birds and raptors plus it will provide shelter during storms. We'll also be adding three accessible fishing piers along the length of the Carp River parallel to the trail. And, we'll be adding another weather shelter up near the Pine Hill Quarry pond with steps added to take you down to the pond. We are waiting for our grant agreement through the Michigan Natural Resources Trust Fund before we can begin this project."
The Iron Ore Heritage Trail receives funding through an operating  millage voted on by the residents of Marquette, Negaunee, Tilden, Republic, and Chocolay Townships plus the Cities of Ishpeming, Negaunee, and Marquette.
For more information, contact Carol Fulsher at the IOHT at 906-235-2923.