Save A Piece of the Marquette Iron Range's Iconic Past
It is time to resurrect our beloved, historic and now collapsed beehive kiln that stood in Marquette for over 130 years. In 2016, after a heavy, wet snow fall, the remains of the last standing kiln of the Carp River Furnace complex collapsed under the weight and their stones lay abandoned on the ground.
The Iron Ore Heritage Trail, a 47-mile, interpretive rail trail across the Marquette Iron Range would like to develop a new plaza at the southern entrance of Marquette along our trail and feature the resurrected kiln as the main feature.
River and once the site of the Carp River Furnace complex, 1874-1902. Charcoal kilns were used to burn wood into charcoal which fed blast furnaces that converted iron ore and limestone into pig iron. It's a large story of our industrial past.
We'll turn a piece of land once industrial, now barren, into an engaging site with the restored kiln as our centerpiece amidst decorative walkways, interpretive signage, custom benches, landscaping, lighting, and public art. It'll become a beacon to those entering the City and showcase how Marquette County uses it's past to shape its future.
Update: Tuesday, July 2, 2019
We have made our way through the Marquette City special use permit at the Planning Commission and revised our plan a little to add plantings along Lake Street to keep autos from parking alongside Lake Street and causing traffic problems.
Update: July 19 – July 26, 2019
During this week, Don Britton, our Chair, and several Premeau workers took down the trees on the site. Don then pulled stumps and excavated the site. Veridea donated fill from their Vista Harbor Phase II project and Oberstar trucked the fill in. Don compacted the fill as it came in. This part of the site plan is now complete and the site is ready for the kiln restoration.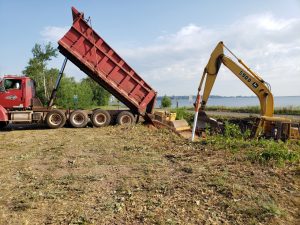 Update: Monday, August 5, 2019
Bid documents for site plan went out today. Bids due on Monday, August 19.
Update:  Thursday, September 5, 2019
Premeau Construction has been awarded the bid for the kiln restoration project.  They will do site prep, concrete work, electrical and kiln restoration.  NMU Construction Management will provide project support for bench, pavers, signage, kiln door donor wall, and bike rack installation. HIgh School welding class will fabricate the light bollards.
Update:  Monday, September 16, 2019
The footings are poured for the start of rebuilding the kiln.  Concrete work and bench installation happening this week.  Our thanks to the NMU Construction Management team, lead by Andrew Plomer who will be taking on the install work.  Steel was ordered this week and the Marquette-Alger RESA/NMU High School Welding Class will be making 21 metal lighting bollards for the project, lead by Jessup Delongchmp, Will Carlson, and Brendan Bell.  Terrific in-kind help from these people and programs.  Should start seeing the sandstone bricks being piece together shortly.  This is such an exciting project for us with a variety of moving pieces, many volunteers, lots of sponsors, and the wonderful work of Mike Lempinen and Rick Kauppila on the kiln door, benches, and interpretive signs.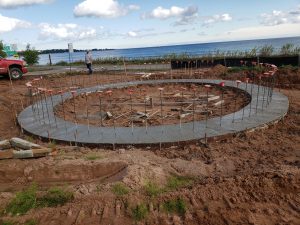 ---
Donors
JAY STEWART – In Memory of Mrs. Florence Casler and Mrs. Helmi Osterberg
MARGARET BRUMM
JOHN SIMMONS
FRED & PATTI TIBBITTS
JIM & MARILYN THOMAS
CAROL & JIM FULSHER
JOE AND ANN CONSTANCE
IRON BAY RESTAURANT
TROY & SARAH HENDERSON
NHEENA WEYER ITTNER & NEIL CUMBERLIDGE
JOHN & MAUREEN GUMAER
CHARLES & JUDY WARNER
JANE RYAN & FAMILY
THE VIELMETTI-PETERS FAMILY
DON & JACKIE BRITTON
GLENN & VICKI JOHNSON
THE LUCE FAMILY
LEONARD ANGELI
CHRIS, COHEN & ANNA NELSON
JOAN & DON MILLER
JOEMAN 5
SHANE & ALI FULSHER
ERIC & JANICE MEISTER
KEITH & VADA KEPLER
WILLIAM AND MARYANN FERNS
TOM & KATHY LEONE
LARRY BATES
MONICA
MICHAEL & VIKKI LEMPINEN
CARY GOTTLIEB & CAROL GAMBIER
LORANA JINKERSON
TIINA HARRIS
RYNE MENHENNICK
CLYDE & MAGGIE MORGAN
GEORGE SEDLACEK
ROLF SWANSON
PETER ZENTI
---